Aims and scope
Head & Face Medicine is a multidisciplinary open access journal that publishes basic and clinical research concerning all aspects of cranial, facial and oral conditions.
The journal covers all aspects of cranial, facial and oral diseases and their management. It has been designed as a multidisciplinary journal for clinicians and researchers involved in the diagnostic and therapeutic aspects of diseases which affect the human head and face. The journal is wide-ranging, covering the development, aetiology, epidemiology and therapy of head and face diseases to the basic science that underlies these diseases. Management of head and face diseases includes all aspects of surgical and non-surgical treatments including psychopharmacological therapies.

Overcoming Language Barriers
If your manuscript could benefit from improvements to the English language, you should have your manuscript reviewed by someone who is fluent in English. For a collection of free resources to help with writing in English please visit here. If you would like professional help, we recommend our affiliates Nature Research Editing Service and American Journal Experts for help with English usage. BMC authors receive 10% off their first submission to either service. Please note that use of an editing service is neither a requirement nor a guarantee of publication.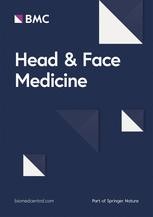 Follow
Institutional membership
Visit the membership page to check if your institution is a member and learn how you could save on article-processing charges (APCs).