Review
Open Access
Open Peer Review
This article has Open Peer Review reports available.
Cutaneous lesions of the nose
Head & Face Medicine
2010
6:7
Received: 1 February 2010
Accepted: 4 June 2010
Published: 4 June 2010
Abstract
Skin diseases on the nose are seen in a variety of medical disciplines. Dermatologists, otorhinolaryngologists, general practitioners and general plastic and dermatologic surgeons are regularly consulted regarding cutaneous lesions on the nose. This article is the second part of a review series dealing with cutaneous lesions on the head and face, which are frequently seen in daily practice by a dermatologic surgeon. In this review, we focus on those skin diseases on the nose where surgery or laser therapy is considered a possible treatment option or that can be surgically evaluated.
Keywords
HemangiomaBasal Cell CarcinomaImiquimodActinic KeratoseHereditary Hemorrhagic Telangiectasia
Review
Anatomical characteristics
The nose is the central part of the mid-face and has an important functional, aesthetic and psychological role. Nasal respiration, olfaction and phonation are among its most important functional roles. In addition, the aesthetic importance and its impact on the individual psyche have been the subjects of many previous studies [1–3]. For example, when looking at a face, observers spend the largest amount of gaze time on the nose and eyes, underscoring its prominent position in the central face [4].
Because of this exposed, highly visible localization, lesions on the skin of the nose are often noticed by patients themselves, typically very early in the course of the disease. The exposed localization on the face is also cause for increased exposure to ultraviolet (UV) light, which represents one of the most dangerous strains for the skin in this particular location because it is a proven carcinogen. This accounts for the high incidence of cancerous involvement of the skin of the nose, which has proven to be the most common site for skin cancer on the human body [5]. Furthermore, this has lead to the description of the face as a "sun terrace," referring to the skin of the forehead, ears and nose, because the angle of the skin toward sunlight at these locations is more acute than elsewhere. Consequently, UV light exposure is increased, which also includes exposure to the dangerous UV-B spectrum (290-320 nm), shown to be one of the most potent skin carcinogens. Typical UV-B-induced DNA damage involves the generation of dimeric photoproducts between adjacent pyrimidine bases. The tumor suppressor gene p53 is a common target of UV-R-induced mutations. Moreover, UV-A generates highly reactive free radicals, damaging DNA and promoting skin cancer. In addition to its role as a potent carcinogen, UV-A is responsible for damage to the collagen structure, leading to accelerated skin aging [6].
The skin of the nose shows several specific anatomical and histological peculiarities that should be considered when evaluating skin lesions on the nose or when planning the reconstruction of surgical defects [7]. The skin in the areas of the dorsum, columella and sidewalls is thin, loose, compliant and relatively less sebaceous [8, 9]. The skin in the areas of the nasal tip and alae is thicker, more sebaceous, more adherent and less flexible [4]. Surgical procedures on the skin of the nose have to respect these different qualities and the nasal topography, including the nasal aesthetic subunits, to achieve the best possible result. The different aesthetic subunits are the tip subunit, columella subunit, dorsal subunit, right and left alar base subunits, right and left alar side wall subunits and right and left dorsal side wall subunits [10]. The anatomical nasal subunits include the dorsum, sidewalls, lobule, soft triangles, alae and columella. The concept of subunits of the external tissue of the nose has proven useful for planning reconstruction. If more than 50% of the subunit is lost it is favorable to replace the whole subunit with regional tissue or a transplant from a donor site [11]. The most important skin diseases on the nose that can require surgical consultation or successfully undergo laser therapy are described below. The description of all dermatoses that can involve the nose would extend beyond the scope of this review. Therefore, our description is limited to those calling for laser or surgical therapy and to those that are clinically most important in the daily practice of a dermatologic surgeon.
Non-malignant tumors of the nose
A variety of benign skin tumors of the nose are part of daily practice in dermatologic surgery. Such conditions present with different peculiarities and causes. Causes for development of non-malignant tumors of the nose range from simple histomorphologic characteristics, such as the high concentration of sebaceous glands and increased UV-light exposure to more complex genetic abnormalities such as mutations, which can lead to the conditions described briefly below.
Vascular tumors of the nose
The recent WHO classification of cutaneous vascular tumors differentiates between benign vascular tumors, intermediate vascular tumors, tumors of lymph vessels and tumors of perivascular cells. However, 53 different cutaneous vascular tumors have been described in this classification [63]. Because the face and scalp are common locations, the nose is also often affected by vascular tumors of different origins. The most frequent are described below.
Inflammatory conditions
The following paragraph describes the most frequent inflammatory conditions on the nose.
Rosacea
Rosacea is a multiphasic inflammatory condition that typically affects the skin of the face and nose. Clinically, rosacea has been classified in four different stages. Stage I, also called rosacea erythematosa telangiectasia (pre-rosacea), shows facial flushing and telangiectasia. Stage II, rosacea papulopustulosa (vascular rosacea), is characterized by persistent facial erythema, telangiectasia, thickened skin, papules and pustules (Fig
9
). Stage III, glandular-hypertrophic or inflammatory rosacea, shows erythematous papules and pustules, telangiectasias, edema, connective tissue and sebaceous gland hyperplasia. Stage IV, or rhinophyma, shows dermal and sebaceous gland hyperplasia, and dilated and cystic sebaceous glands. Most individuals affected by rosacea are of northern European origin, and up to one-third have a family history of the disorder [
91
]. Clinical signs include facial flushing, erythema, telangiectasia and papulopustular efflorescence similar to acne as described previously. Women are three times more likely to be affected than men, with the reported prevalence between 0.5 and 10% [
92
,
93
]. The pathophysiology has been poorly understood, and there have been only limited descriptions of factors that exacerbate or improve this disease [
94
]. Recent molecular studies suggest that an altered innate immune response is involved in the pathogenesis of vascular and inflammatory disease and is responsible for the observed clinical findings in patients with rosacea [
95
].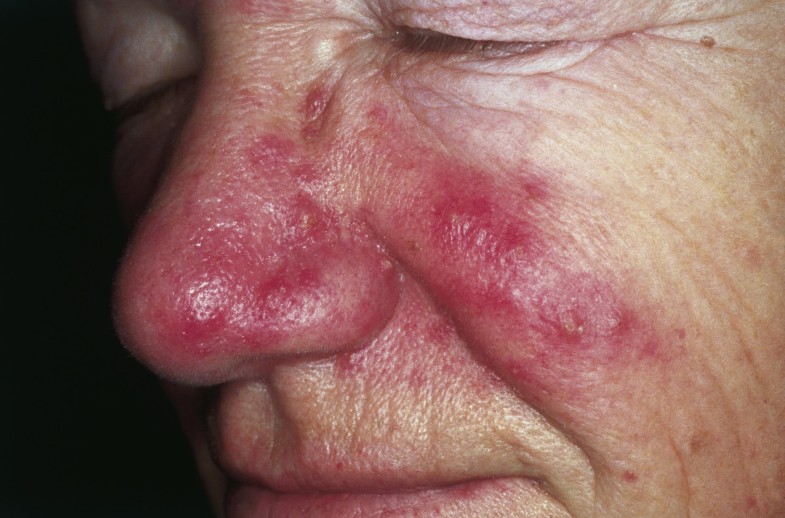 A variety of topical, systemic and physical treatment options are available that have been adjusted to the stage and severity of the disease [96]. Standard topical therapy includes metronidazole 0.75% or 1% gel. Alternatively, azelaic acid 15% gel or 20% cream has also been successfully used in five randomized and controlled studies with good results [97]. Systemic therapy with doxycycline, minocycline, clarithromycin, and moderately high doses of prednisolone or oral isotretinoin has also been described. Persistent erythema and telangiectasia might respond to pulsed dye laser (PDL) and intense pulsed light (IPL) treatments [98]. Furthermore, it is important to remember that ocular rosacea is a potentially blinding eye disorder common in patients with rosacea (6-18% of rosacea patients) [99]. The main symptom is conjunctival injection, which is sometimes accompanied by chalazion or episcleritis. Rosacea patients should therefore be seen by an ophthalmologist early in the disease course [100].
Facial eosinophilic granuloma (syn.: granuloma faciale, granuloma eosinophilicum faciale)
First described by Wigley in 1945, this condition is a chronic inflammation of the skin that generally occurs on the nose (Fig.
10
), chin, forehead, temple or cheeks [
101
]. Clinically, round or oval brown-red macular and popular lesions with large follicular pores (giving the lesion an orange peel-like appearance) can be observed. Histologically, eosinophilia and patterns of leukocytoclastic vasculitis are characteristic. Therapy consists of dapsone p.o. (100-200 mg/day for four months) or intra-lesional steroid injections (e.g., triamcinolone 10 mg diluted with a local anesthetic 1:3-1:5). Dapsone therapy should be evaluated critically as the results are moderate, and the course of the disease is benign. Recently, the topical preparation of tacrolimus, a macrolide immunosuppressant, has been described as successful [
102
]. In cases of resistance to conservative therapy, the surgical excision of solitary lesions, cryotherapy, dermabrasion or ablative laser therapy (CO
2
, argon or erbium: YAG laser) should be considered.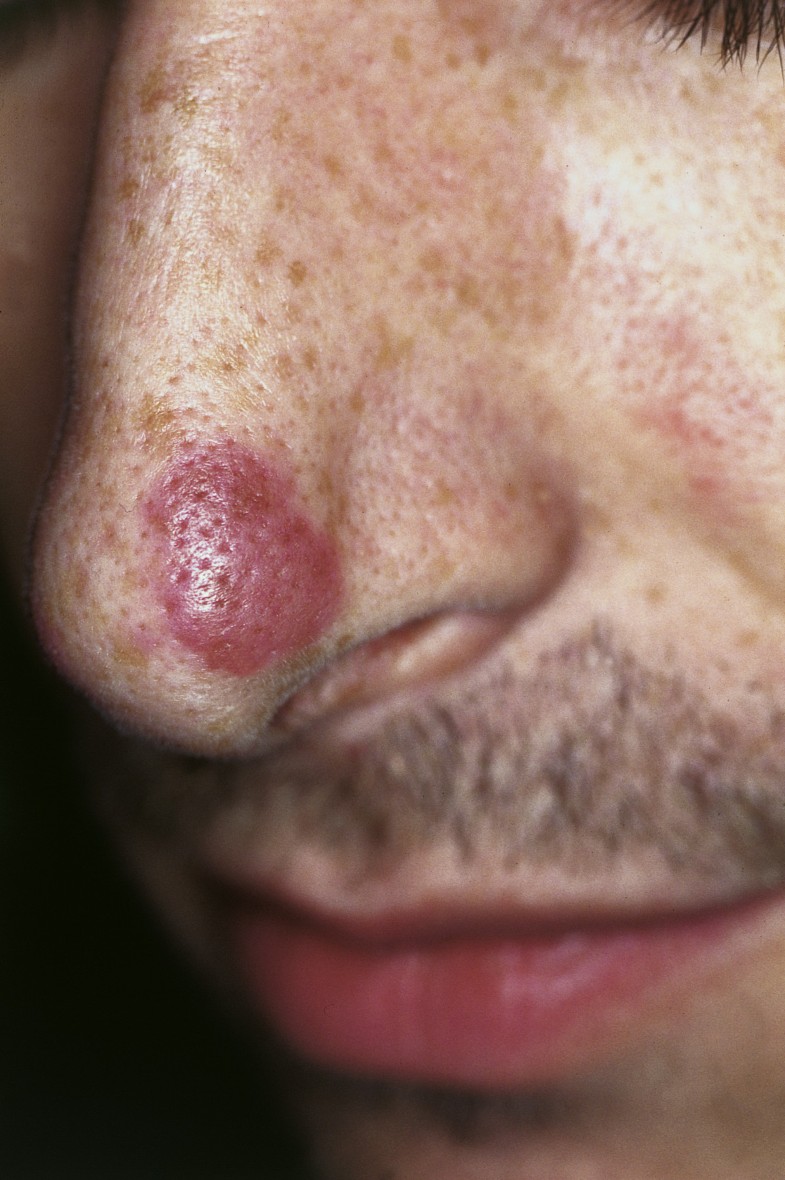 Sarcoidosis
Sarcoidosis is a multisystem granulomatous inflammatory disease that can affect any organ. Cutaneous sarcoidosis is characterized by non-caseating granulomatas that consist of mononuclear phagocytes, epithelioid macrophages and multinucleate giant cells [
103
]. The macronodular type involving the nose and cheek is called lupus pernio and was first described by Besnier in 1889 [
104
]. The etiology of this disease is still unknown. Clinically, dark red, purple or violaceous plaques and nodules can be seen [Fig.
11
]. The serum concentration of angiotensin-converting enzyme (ACE) is increased, and measurements have been used as an index of disease activity. Aside from topical and intra-lesional steroids, multiple forms of internal therapy (immunosuppressants such as steroids, interleukin-2 inhibitors or anti-tumor necrosis factor alpha treatment) have been described [
105
]. Pulsed dye or CO
2
laser ablation is available for the debulking of granulomatous lesions; however, there are no evidence-based recommendations because of the limited number of patients treated [
105
].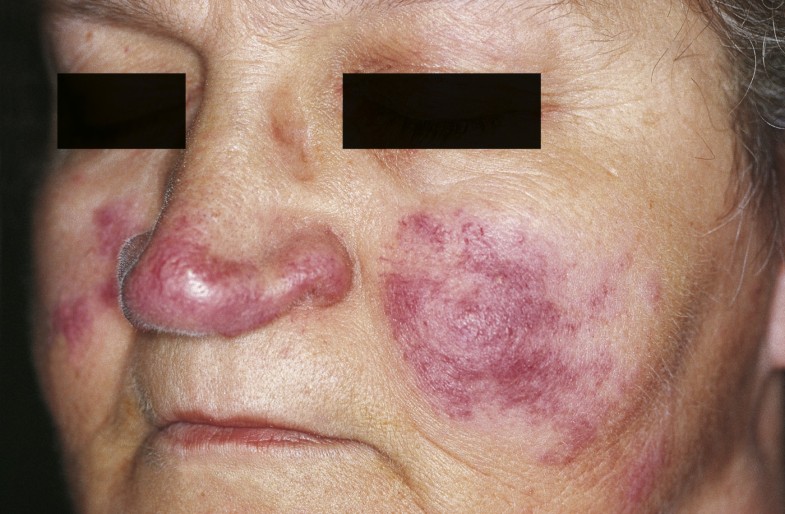 Pre-malignant tumors of the nose
Actinic keratoses (syn: solar keratosis, senile keratosis)
Located on the nose, face, scalp, forearms and back of the hand, this very common pre-malignant lesion consists of crusty, scaly patches of skin. Size ranges from 2 - 10 mm, and colors such as pink, red or the same degree of pigmentation as the surrounding skin are observed. Actinic keratoses are associated with UV light exposure and therefore accompanied by solar damage to the surrounding skin. Patients are in or past middle age, very often with fair complexion. Histologically, five types can be distinguished: hypertrophic, atrophic, bowenoid, acantholytic and pigmented [106]. Left untreated this lesion can potentially result in squamous cell carcinoma. Approximately 20% of untreated actinic keratoses result in squamous cell carcinoma [107]. Therapy consists of simple curettage, topical photodynamic therapy, topical imiquimod, topical 3% diclofenac gel or 5-fluorouracil-creme. In case of surgical excision, histologic examination should be performed to exclude squamous cell carcinoma.
Keratoacanthoma (syn.: molluscum sebaceum, molluscum pseudocarcinomatosum, idiopathic cutaneous pseudoepitheliomatous hyperplasia)
First described in 1889 by Hutchinson as a "crateriform ulcer of the face", keratoacanthoma is a fast-growing, epithelial tumor that develops from hair follicles or the surface epithelium of the skin. It can occur solitarily (frequent) or with multiple lesions (rare). The lesion consists of a firm, cone-shaped nodule (1-3 cm in diameter) with a central horn-filled crater. It shows rapid growth within weeks or months followed by spontaneous resolution over 4-6 months in most cases. Histologically and clinically it often resembles SCC. There is debate about whether it undergoes transformation into SCC or is SCC from the beginning [108, 109]. Nevertheless, as SCC can masquerade as keratoacanthoma, surgical excision with an excision margin of 2-3 mm is recommended [106]. Because the histologic changes at the base of the lesion are important for histologic differentiation, a shave biopsy should be avoided and an excision of the lesion in its entirety should be performed [110]. Immunocompromised patients and those with Muir-Torre syndrome (the combined occurrence of at least one sebaceous skin tumor and one internal malignancy in the same patient) show an increased incidence of keratoacanthoma [111, 112].
Malignant tumors of the nose
The skin of the nose is a very common location for malignant tumors. UV-light exposure is a potent carcinogen of the skin, which results in frequent tumor involvement of the skin of the nose. In the following paragraph we present the most frequent malignant skin tumors of the nose.
Conclusion
The most important skin diseases of the nose, which might require surgical consultation or laser therapy, have been described briefly in this review. In conclusion, the authors suggest that all disciplines that offer conservative or surgical treatment must be familiar with the special morphology and characteristics of skin diseases of the nose. In the case of complex lesions an interdisciplinary approach that combines dermatology, otolaryngology and surgery can provide optimal care for the patient.
Consent
Written informed consent was obtained from the patients/guardians of the patient for publication of this review article and accompanying images. A copy of the written consent is available for review by the Editor-in-Chief of this journal.
Authors' Affiliations
(1)
Department of Dermatology and Allergology, Dermatologic Surgery Unit, Ruhr-University Bochum, Bochum, Germany
(2)
Case Western Reserve University, School of Medicine, Cleveland, USA
Copyright
© Sand et al; licensee BioMed Central Ltd. 2010
This article is published under license to BioMed Central Ltd. This is an Open Access article distributed under the terms of the Creative Commons Attribution License (http://creativecommons.org/licenses/by/2.0), which permits unrestricted use, distribution, and reproduction in any medium, provided the original work is properly cited.