Methodology
Open Access
Open Peer Review
This article has Open Peer Review reports available.
A new biphasic osteoinductive calcium composite material with a negative Zeta potential for bone augmentation
Head & Face Medicine
2009
5:13
Received: 27 August 2008
Accepted: 13 June 2009
Published: 13 June 2009
Abstract
The aim of the present study was to analyze the osteogenic potential of a biphasic calcium composite material (BCC) with a negative surface charge for maxillary sinus floor augmentation. In a 61 year old patient, the BCC material was used in a bilateral sinus floor augmentation procedure. Six months postoperative, a bone sample was taken from the augmented regions before two titanium implants were inserted at each side. We analyzed bone neoformation by histology, bone density by computed tomography, and measured the activity of voltage-activated calcium currents of osteoblasts and surface charge effects. Control orthopantomograms were carried out five months after implant insertion. The BCC was biocompatible and replaced by new mineralized bone after being resorbed completely. The material demonstrated a negative surface charge (negative Zeta potential) which was found to be favorable for bone regeneration and osseointegration of dental implants.
Keywords
Zeta PotentialCalcium SulfateBone SubstituteNegative Zeta PotentialSinus Floor
Background
To place an implant in the posterior upper jaw often requires augmentation procedures in order to increase the vertical dimension and obtain sufficient anchorage of the implant in the alveolar bone that bears the implant. A common method to increase the amount of bone that receives the implant at the lower portion of the sinus floor is maxillary sinus floor augmentation with bone grafts [1, 2]. A variety of bone grafts and bone replacement materials have been recently used for this procedure. Autologous bone has been considered to be the gold standard [3, 4]. However, a second surgical site is needed in order to harvest the bone; the size of the graft is often limited, and donor site morbidity frequently represents a problem. For this reason, bone replacement biomaterials such as demineralized freeze-dried bone allografts and xenografts have been recently used for sinus augmentation with good clinical results and various authors recently reported on the resorption and remodeling of the materials [5, 6]. Although it seems to be statistically negligible, there is still a risk to transmit diseases by using xenografts. Therefore, much effort is made to create alternative materials. The development of more effective alloplastic materials may be a useful alternative way.
Among alloplastic biomaterials, hydroxyapatite, tricalcium phosphate (TCP) (α- and β-TCP) and calcium sulfate have been used as bone substitutes. In comparison to some of the hydroxyapatites, it has recently been shown that β-TCP and calcium sulfate were resorbable [
7
–
9
] and that they have osteoconductive properties [
10
,
11
]. Previous studies indicated that sinus floor augmentation using β-TCP lead to remodeling and formation of new bone. However, the volume of bone formation was significantly reduced in comparison to autologous bone grafts [
7
,
12
]. First results of the clinical application of a new biphasic calcium composite (BCC) bone graft material (Fortoss Vital, Biocomposites Ltd., Keele Staffordshire, England) in reconstructive periodontal and periimplant surgery were promising in terms of the osteoconductive and osteogenetic potential of the BCC material [
13
,
14
]. BCC consists of a porous β-tricalcium phosphate and a bacteriostatic calcium sulfate phase (Fig.
1
). Due to a modified surface activity and ion loading, its osteoconductive behavior seems to be superior if compared to conventional calcium phosphates. Zeta Potential Control (ZPC™; Biocomposites Ltd., Keele Staffordshire, England) is the proprietary process to produce a bioactive bone graft material with a controlled negative surface charge. When placed into healthy bleeding bone, this negative charged surface accelerates the bone growth cascade [
15
,
16
]. Several factors determine the body's initial response to an implanted bone graft material (the host response). Cells will not interact directly with the surface of the implanted material, either in-vitro or in-vivo [
11
], and the process of cell interaction with an implant material is highly dynamic.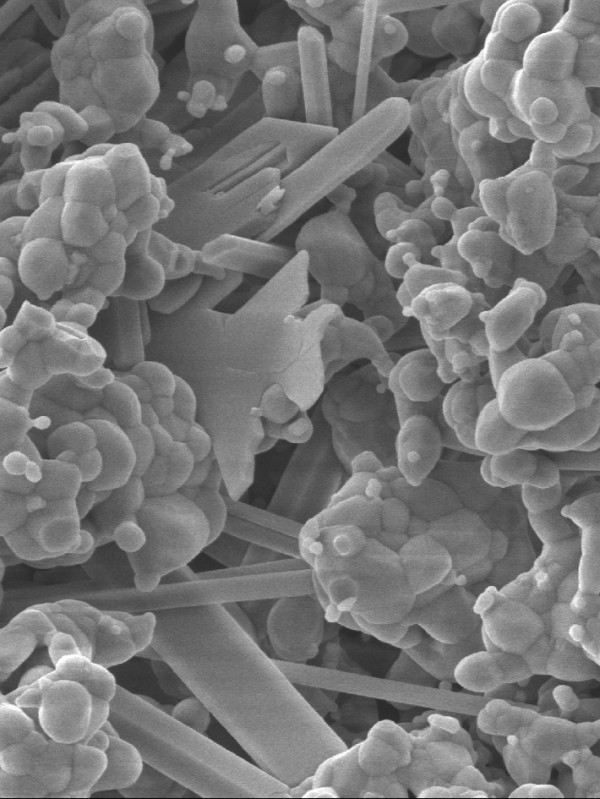 Surface charge is one of these factors, as bone acquires a surface charge when brought into contact with an aqueous environment. The separation in charge between the solid phase of bone and the body's extracellular matrix creates a potential difference between the solid and the liquid called the Zeta potential, which influences the type and nature of proteins and cells harnessed by the surface. The magnitude of the negative polarity of the zeta potentials of the BCC increases with increasing sintering temperature [17]. Various researchers have already reported that negatively charged surfaces have a positive effect on the heterogeneous nucleation of alloplastic materials in a supersaturated simulated body fluid solution, whereas this nucleation is inhibited on positively charged surfaces [18]. This phenomenon is believed to be caused by the electrostatic accumulation of Ca2+ ions near the negatively charged surfaces, which seems to trigger the initial nucleation.
The ZPC™ process enables the manufacturing of a synthetic bone graft with a controlled negative surface charge (Fig.
2
). The analysis of this biomaterial concerning the suitability for sinus floor augmentation has not been studied yet.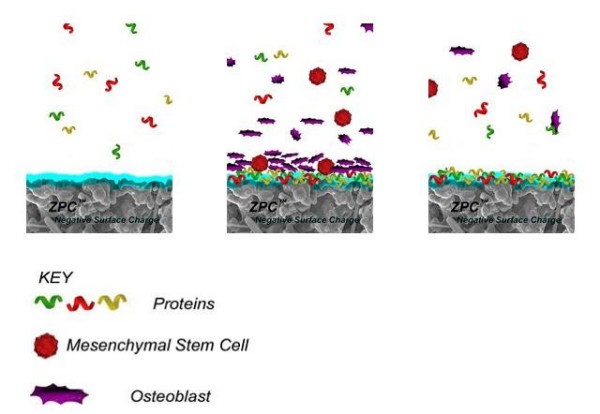 The purpose of our study is to analyze and demonstrate the osteogenic, histologic and radiographic qualities of the BCC bone graft fabricated through the Zeta potential process, which enables production of a bioactive bone graft material with a controlled negative surface charge and which, when placed in apposition to healthy bleeding bone, accelerates the bone growth cascade [15, 16].
Methods
Clinical background and surgical procedure
Due to generalized horizontal bone loss and chronic periodontitis in the upper and lower jaw (Fig.
3
), standardized maxillary sinus floor augmentation was performed prior to the placement of dental implants in a 61 year old male patient. The molars of the upper jaw and the second premolar in the first quadrant were missing. Due to a bone thickness of the sinus floor of less than 4 mm, a two-stage surgery was indicated. Both the right and left sinus were augmented according to the method of Boyne and James [
1
]. In brief, a full thickness mucoperiosteal flap was detached; a rectangular window was reamed into the lateral sinus wall and infractured. The internal mucosa that covers the maxillary sinus was carefully elevated and displaced inwards (towards medial) together with the bone window. The space beyond the prepared membrane and bone window was filled with the BCC bone graft (Fig.
4
). The material was compacted and the mucoperiosteal flap was readapted and sutured. The postoperative period was uneventful. Six months after the augmentation of both sinuses, two 11 × 4 mm implants (Osseotite Certain; 3i Implant Innovations; West Palm Beach, FL, USA) were placed on each side in the augmented regions corresponding to the first right upper molar, second right upper premolar and first and second left upper molars. Prior to the insertion of the implants, dental computed tomography (CT; Twin Elsent, Maconi Philips, Best, Netherlands) was made in order to evaluate the dimension and density of the augmented sinus floors.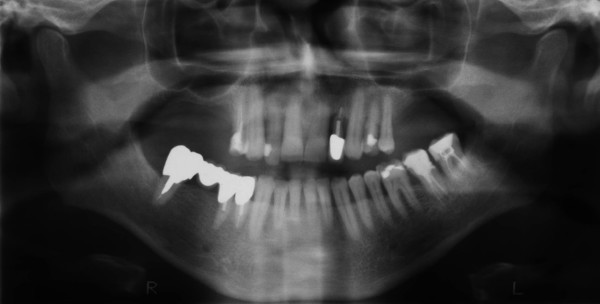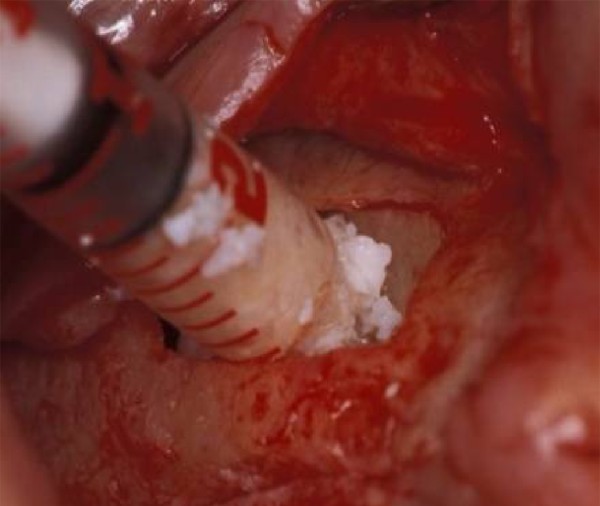 Analysis of voltage-activated calcium currents
Patch clamp physiological techniques were used to characterize the voltage-activated calcium currents expressed in the plasma membrane of osteoblastic cells which are influenced by the surface loading of the bone substitute. Preparations enriched with osteoblasts were isolated by collagenase digestions of newly formed bone and cultured under different conditions which affected cell proliferation. The Zeta potential was measured by using the Zetasizer 3000 device (Malvern, Herrenberg, Germany). Ethanol, isopropanol and methanol were used as liquid phases in reagent grade. Measurements were performed in saturated calcium phosphate solution, in 0.05 mol/l sodium phosphate solutions and in deionized water. The potential was determined six times; the mean values and standard deviations were calculated. The initial setting time of the cements was measured according to the Gilmore needle test in a humidity chamber at 37°C and a humidity of >90% [19].
Sample preparation
During implant placement, a bone biopsy was taken from the augmented area in the first quadrant using a trephine bur. In order to focus on the augmented region, only the cranial bone portion of the bone cavity for the 4 × 11 mm implant was harvested resulting in a 4 × 6 mm sample which was available for histologic evaluation. The specimen was immediately rinsed in saline, fixed in 4% formalin in phosphate buffer for 24 hours at room temperature and demineralized by using EDTA solution. The samples were cut (1–2 μm thickness) and stained in hematoxylin-eosin and Ladewig stain. Microscopic evaluation was carried out on light microscopy in the magnifications 25×, 100× and 400×.
Conclusion
We could show that BCC is a promising and effective alloplastic biocompatible bone replacement material with superior osteoconductive properties due to the negative Zeta potential. The negative Zeta potential has biological important effects in vivo. BCC seems to be very suitable for maxillary sinus floor augmentation and allows stable osseointegration of dental implants compared to conventional pure phase β-TCP. Case control studies with histomorphometric analysis should confirm the promising preliminary results and might verify further indications.
Authors' Affiliations
(1)
Department of Oral and Maxillofacial Surgery, University Hospital Aachen, Aachen, Germany
(2)
Interdisciplinary Center for Clinical Research (IZKF) 'BIOMAT', RWTH Aachen University, Aachen, Germany
(3)
Department of Oral and Cranio-Maxillofacial Surgery, Technische Universität, Klinikum rechts der Isar, Munich, Germany
(4)
Department of Oral and Maxillofacial Surgery, University of Regensburg, Regensburg, Germany
(5)
Department of Pathology, University Hospital Aachen, Aachen, Germany
(6)
Department of Operative Dentistry, Periodontology and Preventive Dentistry, University Hospital Aachen, Aachen, Germany
Copyright
© Smeets et al; licensee BioMed Central Ltd. 2009
This article is published under license to BioMed Central Ltd. This is an Open Access article distributed under the terms of the Creative Commons Attribution License (http://creativecommons.org/licenses/by/2.0), which permits unrestricted use, distribution, and reproduction in any medium, provided the original work is properly cited.